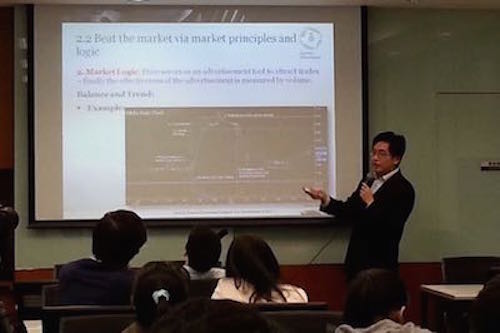 The title of the presentation is "Why Traders/ Hedge Fund Managers Blow up and How to Beat the Market".
Zeyu shared with the students his logical framework on why many professional traders and hedge fund manager blow up.
Then, he showed how in reality he gradually built up his own trading strategies that can consistently "beat the market" and how to apply some of these principles to other areas such as selling and starting a business.
Zeyu received a cordial welcome and got great feedbacks from the students in PolyU after the presentation:
"It is my great pleasure to attend your sharing session. When I talked with my friends after the session, we all think the same—the sharing was so attracting, interactive and instructive that can seldom be found in any other place. Thank you for offering us such a wonderful learning opportunity! " "Personally, I want to thank you for the principle and thinking methodology you conveyed to us tonight. They are not simply about becoming an Equity Trader in an Investment Bank, rather, they are so invaluable things that might influence the ways people do things and they are essential premises to the success of many things."