Join Access MBA event for free, match the MBA program and get scholarship opportunities!
Want to get an overseas MBA degree?
To know the latest info on admissions and scholarships?
To impress the admission officer and get an offer?
To challenge yourself and boost your career?
Access MBA & Access Masters unite top business schools from
the from the US, UK, Canada, France, Switzerland, Germany, Denmark, Singapore and other countries.
Access MBA: 16:30 Wednesday, September 27th, 2022

Access MBA
Access MBA is a global leading brand in higher-education event, founded in 2004. We host over 200 touring events in more than 60 cities worldwide each year. Up to now, our Consultants and Candidate Management teams have matched over 360,000 candidates with over 300 outstanding business schools via One-to-One meeting.
YOUR PROFILE
MBA - Holding a bachelor's degree or higher, minium of 2-year work experience, fluent in English
EVENT SCHEDULE
Access MBA: Wednesday, April 27th, 2022
16:30 Online Check-in
17:00 - 20:40 One-to-One Meetings
WHAT TO EXPECT?
Meet admission directors during 25-minute One-to-One meetings
Get advice on MBA programmes suitable for you
Obtain information and incentives on admission tests (TOEFL, IELTS, GMAT, GRE)
Learn how to win scholarships and finance your Studies
EVENT REGISTRATION
The event is fully free of charge, however, the time slots are limited. To secure your place at the event, you would be well advised to register at least 3 days before the event.
CLICK TO REGISTRATION: https://www.accessmba.com/link/JzN
SCAN TO REGISTRATION: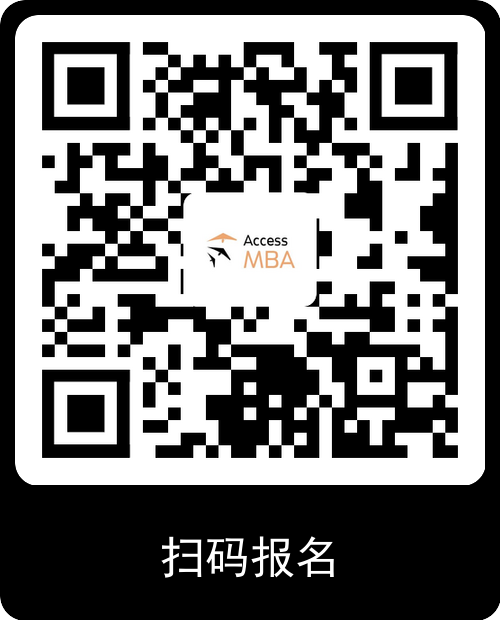 Schools participating in 2022:
Copenhagen Business School - Denmark
Esade Business School - Full Time MBA - Spain
ESCP Business School - France, Germany, Italy, Spain, United Kingdom
ESCP Business School EMBA - France, Germany, Italy, Spain, United Kingdom
HEC Paris MBA- France
Hult International Business School - China, UAE, USA, United Kingdom
IESE Global Executive MBA - China, Germany, Spain, USA
IMD Executive MBA - India, Kenya, Peru, Switzerland, USA
Jack Welch Management Institute - USA
Newcastle University Business School- United Kingdom
Queen's Management School, Queen's University Belfast - United Kingdom
Singapore Management University- Lee Kong Chian School of Business - Singapore
Sobey School of Business at Saint Mary's University - Canada
Syracuse University Whitman School of Management - USA
University of Bath School of Management - United Kingdom
University of St. Gallen Executive MBA - Switzerland
University of St. Gallen MBA - Switzerland
WHU - Otto Beisheim School of Management - Germany
---